---
Charleston and Lowcountry Events
---
Romeo and Juliet
Two Performances: March 1 @ 7:30 pm and March 2 @ 7:30 pm
The Charleston Symphony Orchestra presents: Romeo and Juliet
Robyn Bollinger, Violin
Ken Lam, Conductor
Violinist Robyn Bollinger joins the CSO to perform Paganini's Violin Concerto, a virtuosic masterpiece that is widely considered the most technically difficult of all violin concertos. Bollinger made her debut with the Philadelphia Orchestra at age 12, and has since become a celebrated violinist and chamber musician around the world. In addition, she has won many prestigious competitions, including the International Fritz Kreisler Competition in Vienna, and the Yehudi Menuhin International Competition for Young Violinists in France.

Aaron Lewis - State
Dinner and a Show Option
Call for reservations after purchacing the Dinner option
Dinner at Vincent Chicco's - (843) 203-3002
Dinner at Virginia's on King - (843) 735-5800
Menu
---
Grammy nominated and multi-platinum artist, Aaron Lewis is set to release his sophomore solo album later this year on Big Machine Label Group's DOT Records.
The former Staind front man first made his country debut in 2011 with certified gold single "Country Boy" followed by the release of his first full length solo album, The Road. "Country Boy" featured Charlie Daniels on fiddle and a booming verse from George Jones as well as Chris Young striking a balance between classic and modern country.
Joe Bonamassa
Hailed worldwide as one of the greatest guitar players of his generation, Joe Bonamassa has almost single-handedly redefined the blues-rock genre and brought it into the mainstream. Backed by a stellar band of legendary musicians including Anton Fig (drums), Michael Rhodes (bass), Reese Wynans (piano/organ), and featuring soulful background singers and fantastic horns to bring a whole new life to the show which will feature brand new songs alongside career-spanning favorites. Watch the music video for Bonamassa's latest single "Redemption" here: https://youtu.be/wDe-dI3c5d0 . By exceeding his own vertiginously high artistic goals, Bonamassa has shattered all expectations with this record and has reached new audiences – no mean feat when you continue his astonishing track record of releases, which now includes 20 #1 Billboard Blues Albums (more than any other artist in history). Bonamassa's career in the music industry has built steadily over the years and is only gaining more momentum.

Steel Magnolias
Charleston Stage
In Residence at the Historic Dock Street Theatre
A Heaping Helping of Steely-eyed Southern Sisterhood
By Robert Harling
Direction Jesse Siak
---
Show Schedule:
Wed 6 Mar at 7:30pm
Fri 8 Mar, Sat 9 Mar at 7:30pm
Sun 10 Mar 3:00pm
Thur 14 Mar, Fri 15 Mar, Sat 16 Mar at 7:30pm
Sun Mar 17 at 3:00pm
Thur 21 Mar, Fri 22 Mar, Sat 23 Mar at 7:30pm
Sun 24 Mar at 3:00pm
Black Violin
Black Violin is led by classically trained string players Wil B. (viola) and Kev Marcus (violin). Joining them onstage are DJ SPS and drummer Nat Stokes. The band uses their unique blend of classical and hip-hop music, often described as "classical boom," to overcome stereotypes and encourage people of all ages, races, and economic backgrounds to join together to break down cultural barriers.
Black Violin is currently writing and recording their next studio album expected to be released late 2019. Their last record, Stereotypes, debuted at #1 on the Billboard Classical Crossover Chart and #4 on the Billboard R&B Chart. NPR praised the album and band, saying "their music will keep classical music alive for the next generation." Some of their creative collaborations include Kanye West, Wu-Tang Clan, Wyclef Jean, Lil Wayne, and Alicia Keys.

Experience Hendrix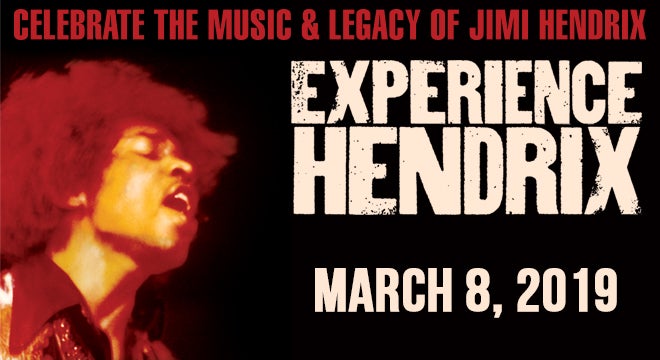 Performing at North Charleston Coliseum and Performing Arts Center
Celebrate the music and legacy of JIMI HINDRIX
Show starts at 8:00 PM
Doors open at 7:00 PM
American Girl Live
Two performances: 200pm and 5:30pm
In American Girl Live, a new, original, 90-minute musical that celebrates the power of girls and strength of friendship, audiences join five spunky campers and their fearless counselor at Camp American Girl, an overnight camp in the North Woods. Overcoming fears and obstacles along the way to having the summer of their lives, these brave campers rely on wisdom and advice delivered by Rebecca, Maryellen, Julie, Nanea, Luciana, and Melody – the beloved American Girl dolls they've brought along to camp – who inspire audiences in surprising and delightful musical numbers, each reflecting their historical eras. Empowered by the stories and conviction of their American Girls, the campers learn that they can overcome anything and achieve their dreams, so long as they stay true to themselves and support one another!

Celtic Woman: Ancient Land
Performing at North Charleston Coliseum and Performing Arts Center
Celtic Woman: Ancient Land
Show starts at 3:00 PM
Doors open at 2:00 PM