North Charleston POPS! 2017 - 2018 Season
Category / Venue: North Charleston Coliseum
Date and Time: 27 Jan 2018 7:30 PM
Start Date: 04 November 2017 | End Date: 26 May 2018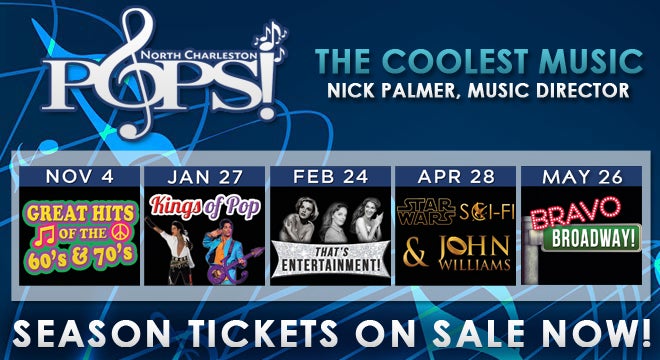 N
orth Charleston POPS! 2017 - 2018 Season
Five unforgettable evenings - showcasing the best professional musicians from the Southeast.
Season Lineup:
Greatest Hits of the 60s & 70s - November 4, 2017 at 7:30 PM
Kings of Pop - January 27, 2018 at 7:30 PM
That's Entertainment! - February 24, 2018 at 7:30 PM
Star Wars, Sci-Fi & John Williams - April 28, 2018 at 7:30 PM
Bravo Broadway - May 26, 2018 at 7:30 PM
Charleston Gaillard Education Initiative Presents GO, DOG. GO!
Category / Venue: Charleston Gaillard Center
Date and Time: 30 Jan 2018 12:30 PM
Go, Dog. Go! brings the adventures of P.D. Eastman's book to life in a frolicking musical dog party. The cast of this beloved preschool favorite has gone to the dogs—with cars, hats, a moonlit boat ride, and even a wild game of ball—as this hilarious visual spectacle manages to sneak in some important lessons about life between innings. Go, Dog. Go! is a musical romp full of surprises, color, clowning, vaudeville, singing/barking, and of course, six lovable dogs!
Best of Broadway 2017 - 2018 Season Presented By Planet Fitness
Category / Venue: North Charleston Coliseum
Date and Time: 30 Jan 2018 7:30 PM
Start Date: 17 October 2017 | End Date: 9 May 2018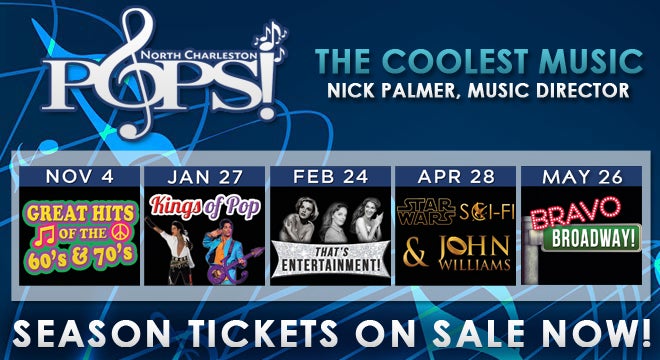 The Best of Broadway presented by Planet Fitness features the best in national touring Broadway shows. The series is in its 19th season and is presented by the North Charleston Performing Arts Center and the Nederlander Producing Company of America.
Season Lineup:
The Book of Mormon
A Christmas Story, The Musical
Kinky Boots - February 24, 2018 at 7:30 PM
The Illusionists Present Adam Trent
Beautiful - The Carole King Musical
Motown The Musical
Awendaw Green Barn Jams
Category / Venue: Awendaw Green
Date and Time: 31 Jan 2018 6:00 PM
AWENDAW GREEN
Just out of reach from the stress and clutter of the city, Awendaw Green is a safe haven for all original musicians.
Performances:
Singer in the Round 6 p.m.
Kristin Rebecca
Escaping Pavement 7:30 p.m.
Community Center 8:20 p.m.
Suzanne Slair 9:10 p.m.

The Black Jacket Symphony Presents Tom Pettys "Damn The Torpedoes"
Category / Venue: Charleston Music Hall
Date and Time: 1 Feb 2018 8:00 PM
The Black Jacket Symphony offers a unique concert experience through recreating classic albums in a live performance setting. A selected album is performed in its entirety by a group of handpicked musicians specifically selected for each album, with no sonic detail being overlooked--the musicians do whatever it takes to musically reproduce the album.
The performance is separated into two sets. The first set features the album being recreated as a true symphonic piece. The second set, which features a selection of the album artist's "greatest hits," opens in full contrast to the first set with an incredible light display and the symphony being much more laid back. The tone is set very quickly that the show will feature the high level of musicianship of the act being covered and will also be accompanied by all the bells and whistles of a major rock and roll show.
Classical Bernstein And Gershwin
Category / Venue: Charleston Gaillard Center
Date and Time: 2 Feb 2018 7:30 PM
Charleston Symphony Orchestra Masterworks presents
CLASSICAL BERNSTEIN AND GERSHWIN
Featuring:
Conrad Tao, piano
Ken Lam, conductor

Program:
Leonard Bernstein Prelude, Fugue and Riffs
George Gershwin Piano Concerto in F major
Leonard Bernstein Symphony No. 2 The Age of Anxiety

GROUNDHOG DAY NO. 6
Category / Venue: Charleston Music Hall
Date and Time: 3 Feb 2018 8:00 PM
The Charleston Music Hall and The Halsey Institute of Contemporary Art are thrilled to team up once again for the sixth installment of The Groundhog Day Concert, February 3rd at 8pm. We all know Groundhog Day as the day in which the sleepy groundhog rises out of his hole, looks at his shadow, and thus decides if winter is almost over. Little did you know that Groundhog Day is also the un-official day for music celebration in Charleston, SC. Due to scheduling, we have to celebrate Groundhog Day one day late this year, but we shall celebrate with the fervor of 1,000 suns to keep the Groundhog from burrowing back into his hole thus promising an early Spring! Gil Shuler has returned to design another wonderful Groundhog Day poster this year. Gil has actually won two national design awards with his Groundhog Day poster designs over the years. We are thrilled to have The Sisters Matsuda (Hirona & Riki) back this year to create another fantastic original set design. Bill Carson will lead an amazing ensemble of musicians in a night of musical magic, fantasy, lore, and craftsmanship.
Art Garfunkel
Category / Venue: Charleston Music Hall
Date and Time: 5 Feb 2018 8:00 PM
TAlthough it has been over 40 years since Bridge Over Troubled Water was recorded, Art Garfunkel's image and signature vocal remain among the most instantly recognizable in popular music. His "beautiful countertenor," as Neil Strauss described Art's voice in The New York Times, is clear and resonant, surely one of the finest instruments in all of popular music, and a time-honored friend to a world of listeners. The dialogue began for Art at age four, when his father brought home one of the first wire recorders. "That got me into music more than anything else," he recalls, "singing and being able to record it." Seven years later he was singing Everly Brothers songs at school talent shows with a partner, Paul Simon, from his Forest Hills neighborhood in Queens, New York. "Then rhythm 'n blues, rock 'n roll came along." He and Paul set their sights on the Brill Building. "We practiced in the basement so much that we got professional sounding. We made demos in Manhattan and knocked on all the doors of the record companies with our hearts in our throats." In 1957, 'Tom and Jerry' (as they were called then) landed a recording contract. Their first 45, "Hey, Schoolgirl" (which they wrote together) scored a moderate hit and they appeared on "American Bandstand" as high school seniors. "We got a quick education in the record business," Art recounts.