PBR: Real Time Pain Relief Velocity Tour at North Charleston Coliseum
Category / Venue: North Charleston Coliseum
Date and Time: 20 Jan 2018 7:00 PM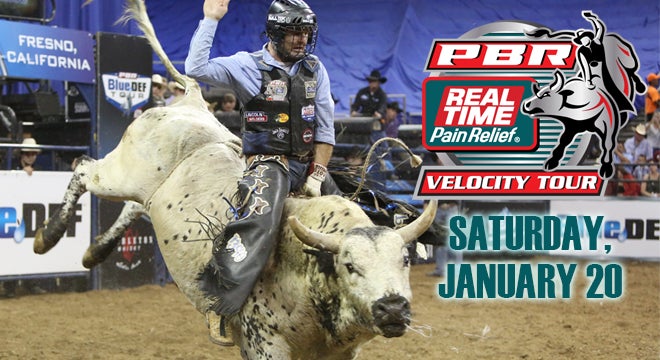 PBR: Real Time Pain Relief Velocity
at The North Carleston Coliseum.
Doors Open at 6:00 PM
Parking is $10.00, cash only.
Kenny G
Category / Venue: Charleston Gaillard Center
Date and Time: 20 Jan 2018 8:00 PM
TThe 4th Annual Charleston Jazz Festival welcomes Kenny G to the Gaillard Center. In a recording career that spans almost three decades and 23 albums, Grammy Award-winning saxophonist Kenny G has grafted elements of R&B, Pop and Latin to a jazz foundation solidifying his reputation as the premiere artist in contemporary jazz. Since the early '80s, his combination of unparalleled instrumental chops and indelible melodies has resulted in sales of more than 75 million records worldwide (45 million in the US alone) and more than a dozen climbs to the top of Billboard's contemporary jazz chart. Kenny G has collaborated with some of the biggest names in the business during his legendary career, ranging from Michael Bolton to Weezer to Whitney Houston to Katy Perry. In 2015, Kenny G released his fourteenth studio album Brazilian Nights on Concord Records. The ten-song set, Kenny's tribute to the 'masters' of Bossa Nova, is a mixture of classics and Kenny G originals. Proceeds from ticket sales help create scholarships for the new Charleston Jazz Academy, which is part of Charleston Jazz, a 501(c)3 nonprofit organization.
Shen Yun at North Charleston Performing Arts Center
Category / Venue: North Charleston Coliseum
Date and Time: 23 Jan 2018 7:30 PM
Two Shows: Tuesday January 23rd 7:30 PM | Wednesday January 24th 7:30 PM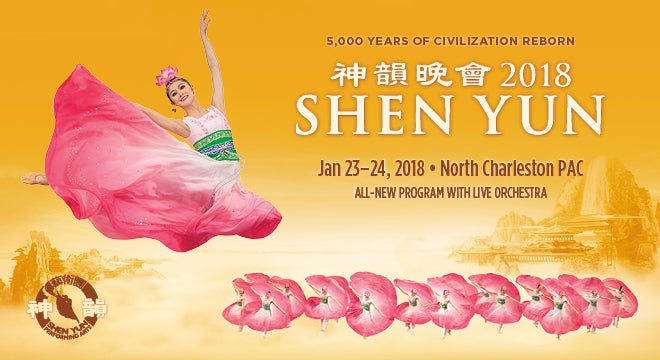 IN ANCIENT TIMES, China was known as the Land of the Divine. Everyone, from emperors to the common people, believed that their culture was a gift from heaven. They lived in harmony with the universe and saw a connection among all things. Traditional Chinese culture carried these principles for thousands of years—until this world was lost.
Awendaw Green Barn Jams
Category / Venue: Awendaw Green
Date and Time: 24 Jan 2018 6:00 PM
AWENDAW GREEN
Just out of reach from the stress and clutter of the city, Awendaw Green is a safe haven for all original musicians.
Performances:
Singer in the Round 6 p.m.
James Leprettre
Cortez Garza
Kavoossi Music
Cisco Kids 8:25 p.m.
Heather Maloney 9:15 p.m.

BAKER MOTOR COMPANY Spotlight Performance Featuring PINK MARTINI
Category / Venue: Charleston Gaillard Center
Date and Time: 25 Jan 2018 7:30 PM
The Charleston Gaillard Center Presents Pink Martini - Featuring the multi-talented, Storm Large. Drawing inspiration from music all over the world – crossing genres of classical, jazz and old-fashioned pop – Thomas Lauderdale founded the "little orchestra" Pink Martini in 1994. Storm made her debut with the band Pink Martini in April 2011, singing four sold-out concerts with the National Symphony Orchestra at the Kennedy Center in Washington, DC. She continues to perform with the band, touring nationally and internationally, and she was featured on their CD, Get Happy. Storm has also sung with Grammy winner k.d. lang, pianist Kirill Gerstein, punk rocker John Doe, singer/songwriter Rufus Wainwright, and Rock and Roll Hall of Famer George Clinton.
The Del McCoury Band
Category / Venue: Charleston Music Hall
Date and Time: 26 Jan 2018 8:00 PM
TFor fifty years, Del's music has defined authenticity for hard core bluegrass fans. His fans count him among the best, even among a growing number those fans only vaguely familiar with the genre. While the box set Celebrating 50 Years of Del McCoury, like its distilled companion, provides an opportunity to look back on a unique legacy, it's also provides some of the best music hes ever made.
"Del epitomizes the bluegrass musician from the previous era, and also this one," says acclaimed resonator guitarist Jerry Douglas, a member of Alison Krauss + Union Station and producer of several of McCoury's 90s albums. "You can finally make a living playing bluegrass, and a large part of it is because of Del McCoury; he became like the new Bill Monroe. For him to have come along this far is testament to his will to stick it out-but at the same time, when he saw that he was going to be able to do it, he started really, really enjoying it, and that's when he started making the best music of his career."
Mike Allen & Friends Present "Why, Why, Why"
Category / Venue: Charleston Music Hall
Date and Time: 27 Jan 2018 7:30 PM
Michael Allen (Mike) is a graduate of Georgia Institute of Technology and a Registered Professional Engineer with a 32-year-old consulting practice in Charleston, South Carolina. He has always loved music and learned guitar as a teenager playing Beatles songs.
Mike began writing original songs in 1991 and recording his arrangements in his home studio, conceiving and playing all instrumental parts and vocals. His predominant genre has been faith/inspirational, but has also written a number of Americana story ballads, and even some country-rock numbers.
On September 11, 2001, Mike teamed with a friend and composed a ballad titled "United Through It All", a song of hope and resolve for America in the wake of the terrorist attack. The original recording produced by Mike charted in the top 10 on Country/Christian radio charts and was reported to be a favorite on International Armed Services Radio. The lyric was entered into the Congressional Record in the Library of Congress on November 15, 2001.
The piece was quickly adapted by the U.S. Army Band and Soldiers Chorus, the prestigious touring band for the Army out of Washington DC, and made a centerpiece in their next four nationwide tours including performances at Constitution Hall in DC. Many other "base" bands made it a part of their repertoire. The "Pershing's Own" U.S. Army Band, the ceremonial band based in DC, selected the piece as the title feature at a "United Through It All" concert at Avery Fischer Hall, Lincoln Center in NYC at on the band's 80th anniversary.
"United Through It All" was selected by President George W. Bush to be performed by the U.S. Navy Band at the televised re-opening ceremony of the Pentagon on September 11, 2012, the one year anniversary of the terrorist attack, as a lead-in to Bush's keynote speech following Secty of Defense Rumsfeld's speech.
Kings Of Pop at North Charleston Performing Arts Center
Category / Venue: North Charleston Coliseum
Date and Time: 27 Jan 2018 7:30 PM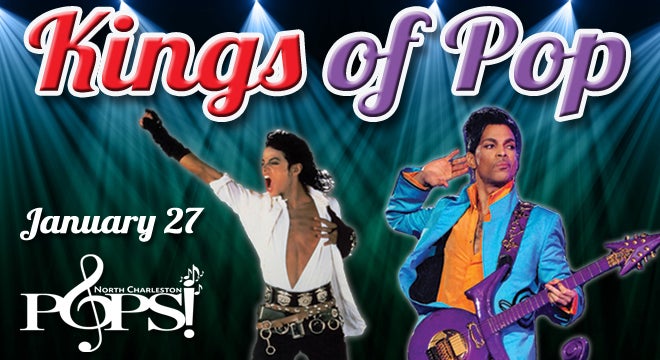 The King of Pop and Prince have left an awesome musical legacy. In celebration of Michael Jackson, we will take you back to the earliest Jackson 5, through The Jacksons and also focus on some of the best material from "Off The Wall," "Thriller," and "Bad." PRINCE selections will include Purple Rain, When Doves Cry, Little Red Corvette, 1999 and I Would Die For You. With his lightning speed comedic timing, skills on the dance floor and a truly exceptional, emotional voice, Gavin Hope is a natural born performer and always a fan favorite! Jeans 'n Classics returns to our stage for another night of unforgettable music.