Mozart Requiem
Category / Venue: Charleston Gaillard Center
Date and Time: 16 Jan 2018 7:30 PM
E
xperience Wolfgang Amadeus Mozart's ethereal and dramatic masterpiece Requiem Mass K. 626. Commissioned by a secret messenger, this work is shrouded in mystery from the very beginning and highlights the genius of Mozart's compositional style for solo quartet, mixed choir, and full orchestra. Mozart's inexplicable and sudden death left the Requiem Mass incomplete. This performance version was completed by Franz Süssmayr at the request of Mozart's wife, Constanze.
The combined talents of the Cane Bay Cobra Chorale, School of the Arts Orchestra and Singers, Wando Chamber Choir and other Tri-County musicians
will present this stunning masterwork by Mozart.
Awendaw Green Barn Jams
Category / Venue: Awendaw Green
Date and Time: 17 Jan 2018 6:00 PM
AWENDAW GREEN
Just out of reach from the stress and clutter of the city, Awendaw Green is a safe haven for all original musicians.
Performances:
Ian Fitzgerald 6 p.m.
Laura Thurston
Native Harrow 7:30 p.m.
Want Whisky 8:20 p.m.
Jupiter Down 9:10 p.m.

Shopkins Live at North Charleston Performing Arts Center
Category / Venue: North Charleston Coliseum
Date and Time: 18 Jan 2018 6:30 PM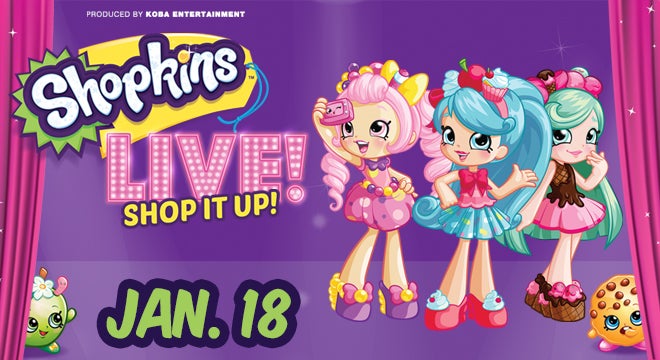 Your beloved Shoppies make their theatrical debut in an original new live show featuring musical performances by Jessicake, Bubbleisha, Peppa-Mint, Rainbow Kate, Cocolette, Polli Polish and more! The fun and fashionista Shoppies are joined by the Shopkins – the grocery store-themed mini collectable toys – Apple Blossom, Strawberry Kiss, Lippy Lips, Kooky Cookie, Poppy Corn, Slick Breadstick and Shady Diva. An ensemble cast of multi-talented performers brings the show to life on stage through urban style music, song and dance.
Gershwin and Bernstein Take New York and Tonight, Tonight Gala
Category / Venue: Charleston Gaillard Center
Date and Time: 18 Jan 2018 7:00 PM
George Gershwin and Leonard Bernstein captured New York City's essence and became the iconic musical voices of their time. The CSO is joining orchestras around the world to celebrate Bernstein's Centennial this season with his Overture to Candide, West Side Story Suite No. 1, and Symphonic Dances. We will then join forces with College of Charleston piano professor, Paul Sánchez, to perform Gershwin's popular jazz classic, Rhapsody in Blue.
Eddie B. Teachers Only Tour
Category / Venue: North Charleston Coliseum
Date and Time: 19 Jan 2018 7:00 PM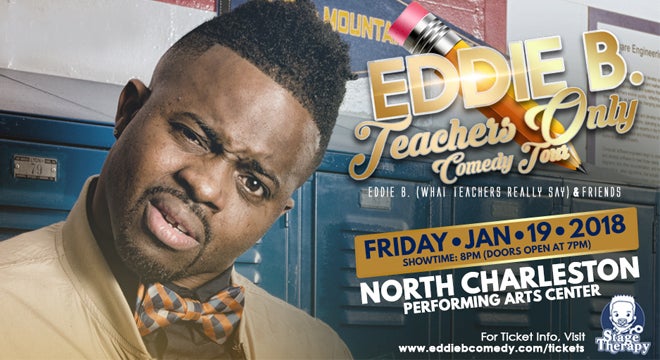 The Houston native who singlehandedly is changing the comedy game, tapping into the minds of teachers around the world and selling out major arenas throughout the country in minutes is coming to the Lowcountry! The Teachers Only Comedy Tour featuring Eddie B hits the North Charleston Performing Arts Center on Friday, January 19.
Millions of educators on social media are calling the "Teacher's Only Tour" their very own stress reliever and they are filling their favorite venues to capacity eager to hear Eddie B speak THEIR mind!

The Charleston Gaillard Center Presents 5 Browns
Category / Venue: Charleston Gaillard Center
Date and Time: 19 Jan 2018 7:30 PM
The 5 Browns – Ryan, Melody, Gregory, Deondra and Desirae –all attended New York's Juilliard School, where they were the first family of five siblings ever admitted. They have performed in venues around the world, including the Grand National Theater in China, Suntory Hall in Japan, and Carnegie Hall's Isaac Stern Auditorium in New York City. They have also been featured in media outlets such as The New York Times, Oprah, CNN, and The Sunday London Telegraph. The 5 Browns' upcoming projects include the release of their 7th album with Grammy® award-winning producer Adam Abeshouse, which features musical favorites from their childhood.
Vanya and Sonia and Marsha and Spike at Footlight Players
Category / Venue: Foot Light Players
Date and Time: 19 Jan 2018 8:00 PM
Start Date: 19 January | End Date: 04 February
Vanya and Sonia have never left the confines of their childhood home (where they bicker and complain about the circumstances of their lives) in Bucks County, Pennsylvania. Meanwhile, their sister Masha has been gallivanting around the world as a successful actress. A surprise visit from Masha and her 20-something boy toy, Spike, throws the normally quiet household into utter upheaval as its residents and visitors get swept up in an intoxicating mixture of lust, rivalry, regret, and the sudden possibility of escape. Winner of the 2013 Tony Award for Best Play, audiences will leave the theatre laughing
Performances: 8 p.m. Jan. 19 | 8 p.m. Jan. 20 | 3 p.m. Jan. 21 | 8 p.m. Jan. 26 | 8 p.m. Jan. 27 | 3 p.m. Jan. 28 | 8 p.m. Feb. 1 | 8 p.m. Feb. 2 | 8 p.m. Feb. 3 | 3 p.m. Feb. 4
Charleston Stage at Dock Street Theatre Presents: The Giver
Category / Venue: Dock Street Theater
Date and Time: 20 Jan 2018 11:00 AM
Two Shows: 20 January 11:00 AM and 3:00 PM
Charleston Premiere! Winner of the 1994 Newberry Medal for Young Audiences!
One of the most beloved young adult novels from recent years, The Giver tells the story of Jonas, a boy who lives in a perfect world—free of poverty, crime, war and strife. When he is given the prestigious role as this utopian society's Receiver of Memory, he discovers all his society had to give up to achieve this conflict free world.
Adapted by Eric Coble from the Newbery Award-winning Book by Lois Lowry